The 51st Morrow: A Paddle Party with A Tournament January 26-28 2024 Wilmington, DE
Welcome to the official website of the Richard R. P. Morrow Invitational Platform Tennis Tournament. The tournament, which began in 1974 as the Tri-Club Mixed, was renamed in 1985 to celebrate and honor the memory of Dick Morrow. It is more than a tournament. It is a three-day winter celebration which has seen over 1,000 different players participate over the years.  The paddle tennis matches are held at four local clubs. There are 3, and sometimes 4, divisions based on skill level and experience. Play starts Friday evening, continues all day on Saturday, and ends with at least 12 Finals on Sunday. All teams play at least three matches. The level of play goes from beginners to national champions, and everything in between. The celebration includes a Friday night cocktail party and a Saturday evening dinner/dance.
The tournament is open to all members of the below clubs, their partners and guests approved by the Committee. All participants must be 21 years of age or older. There is a limited draw size. Entries will not be complete and slots will not be secured until payment has been made (via check, Paypal or Venmo).  Click the application link to sign up.
Jan 29th 2023 FINAL UPDATE:

Congrats to our champions Nolan and Alicia after all 132 matches.
See you on Jan 26 – 28 2024

Click here for FInal Completed 2023 Draws
   Participating Clubs
Greenville CC    Wilmington CC      Vicmead Hunt      Kennett Square G & CC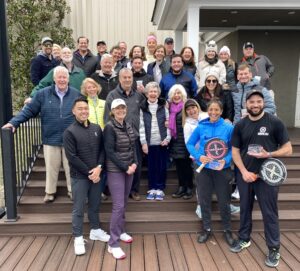 Front Row – 2023 Runners up Jeremiah Dejose and Cindy Prendergast with 2023 Champions Alicia Papa and Nolan Bacchieri